Due to lack of sufficient interest, previously posted excursions have been removed from our offer.
Venice (Italy)
Venice is without a doubt one of the most glorified and romantic cities in the world and thus one of the most desired destinations. A pleasant boat ride of around two and a half hours takes you to the magnificent town of Venice and make your vacation a spectacular experience. Founded in the 5th century and gradually spreading over 118 islets, thus creating an impression of a floating town, Venice became the world's most powerful maritime force in the 10th century. The entire town is an incredible architectural masterpiece.
| | |
| --- | --- |
| Duration: | 12 hours (7:00 – 21:00) |
| Price for catamaran ticket: | 68 EUR |
| Minimum participants: | 1 |
---
National Park Plitvice lakes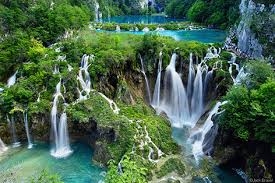 The Plitvice Lakes National Park was included on UNESCO's World Heritage List in 1979 as a "natural phenomenon of rare and unique beauty". It was founded in 1949 as Croatia's first national park in order to protect the breath-taking natural hydrogeological karst phenomenon. A series of 16 lakes, constantly changing their colour from turquoise to green, grey or blue, was created by natural deposition of travertine, and now forms part of a superb symphony of lakes, waterfalls and surrounding woods rich with wildlife. Visitors can experience this rare water and karst phenomenon by walking the eight kilometre long trails and wooden bridges or by taking a boat or electric train ride.
| | |
| --- | --- |
| Duration: | 10 hours |
| Price | 110 EUR |
| Price includes: | professional guide, bus transportation, entrance ticket, lunch |
| Minimum participants: | 30 |
---