---
Arriving by plane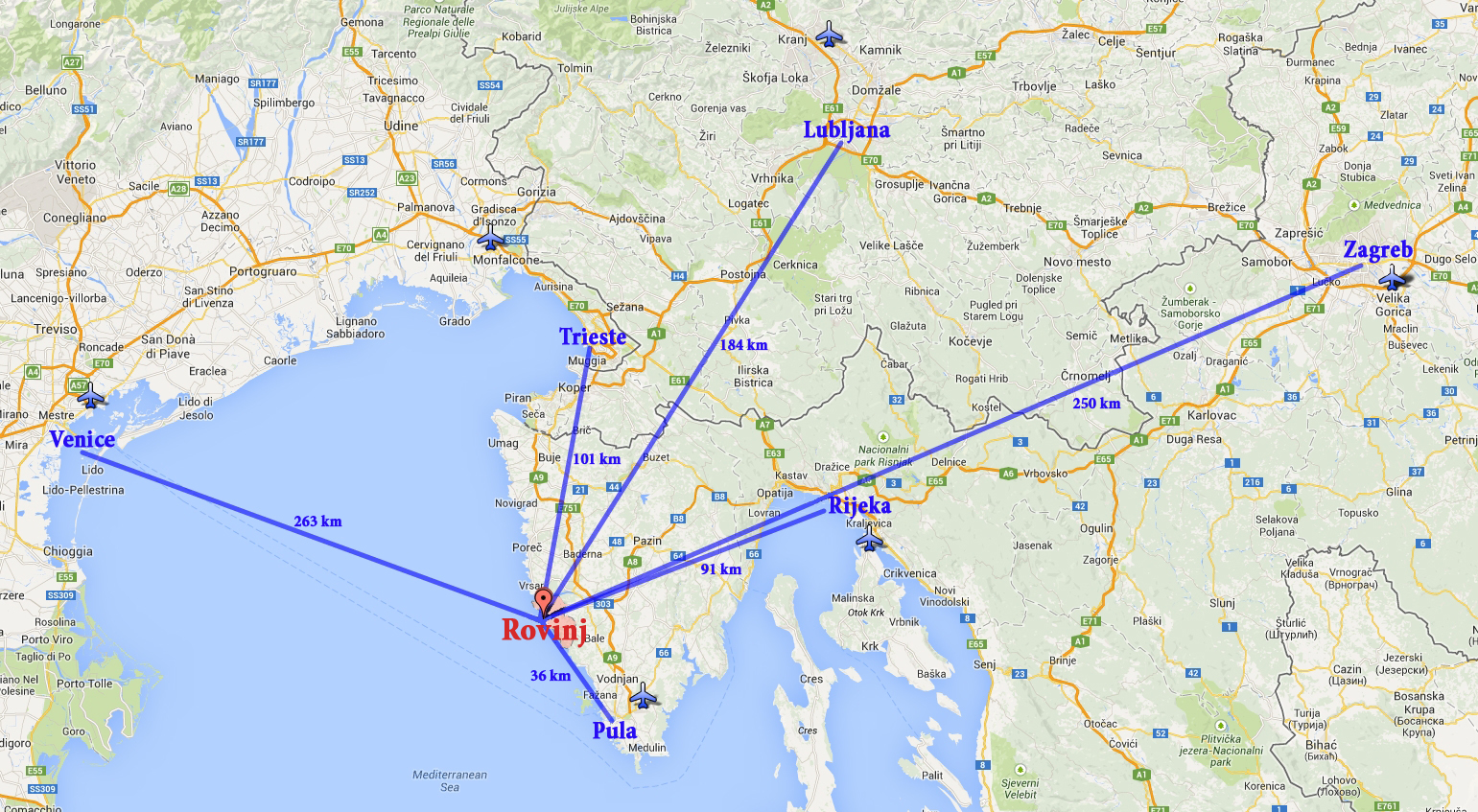 International airport of Pula is definitely the #1 choice when looking for the flights to attend the ECM29. Located only 36 km from Rovinj, it is well connected by regular local bus lines with downtown Pula, from where many local bus lines to Rovinj are available. A regular, two-way shuttle service will be organised from the Pula airport to Rovinj. During the summer season (and the time when ECM29 is taking place), Pula airport is directly connected with many European cities (London, Manchester, Birmingham, Frankfurt, Berlin, Hamburg, Cologne, Moscow, Kiev, Belgrade, Oslo, Rome, Zadar, Zagreb, Brussels and others).
As an alternative, five other international airports can be used by the participants of the ECM29: Rijeka, Trieste (Italy), Zagreb, Venice (Italy) and Ljubljana (Slovenia). In addition to the regular shuttle service from Pula, there will be another two-way service for all participants of the ECM29 arriving to Trieste.
Upon request, special shuttle services will be provided for the participants of the ECM29 arriving to Venice, Ljubljana, Rijeka and Zagreb airports. All these airports are well connected to corresponding downtown terminals, from which there are regular bus lines to Rovinj (for more information, see below). Downtown Venice is also connected with Rovinj by a daily speedboat line (see below).
---
Arriving by car
Rovinj is located in a geographical heart of Europe and it is easily accessible by road. Rovinj is connected to the Slovenian border (65 km) by a brand new highway, running along the stunning west Istrian coast. This highway connects Rovinj in the best possible way to Trieste and Ljubljana, and via these cities, to Bologna, Milan, Munich, Vienna, Graz and further to the western Europe. The other highway connects Rovinj with the Croatian port of Rijeka (90 km) and further, to the Croatian national capital, Zagreb (250 km). From Zagreb, there is an excellent networks of highways connecting it to Vienna, Budapest, Belgrade and further to the eastern and south-eastern parts of Europe. The southern branch of the Croatian highway network enables a comfortable drive from Rovinj, along the entire Croatian Adriatic coast, as far as to the pearl of Adriatic – Dubrovnik (600 km).
---
Arriving by bus
Croatia has an excellent and efficient network of bus lines. The buses are generally comfortable, air-conditioned and run on time. It is easy to reach Rovinj from any major Croatian town, especially from the main Zagreb bus station, from where there are several buses to Rovinj daily (see Table below). Regular bus lines connect Rovinj also with Trieste (Italy) and Ljubljana (Slovenia).
---
Arriving by boat
There are two daily shipping lines from Venice to Rovinj (see Table below).
---
Local transports and parking
Parking facilities are included in hotels prices and there is abundance of parking places near all hotels and tourist settlements as well as in the complex of the old tobacco factory convention village.
| Taxi service | Location of the taxi service | Contact |
| --- | --- | --- |
| Rovinj | Phone: +385 52 811 100 | Cell: +385 98 255 560, +385 98 255 366 |
| | | |